My Independent Reading Rollercoaster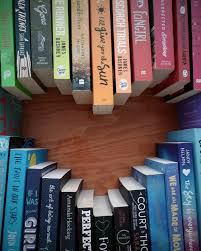 Mondays, Wednesdays, Fridays. My favorite days of the week! Why? Those are independent reading days in the WP English Department. For 30 minutes a week, we are provided with an escape from this crazy world, a chance to jump into alternate realities where the problems are not our own.
With September came one of my favorite hobbies, searching through Ms. Lane's bookshelf. It was there that my love of reading had truly cultivated. Over the summer I had delved into Jenny Han's writing, namely her To All the Boys I've Loved Before and The Summer I Turned Pretty trilogies. I developed a love for lighthearted fiction, normally stories where the problems were not trivial. Not that they were predictable, I just liked the sense of knowing that everything would eventually end up okay.
Flashforward to the beginning of school when I learned that independent reading was a set establishment. It was here when I was able to get amazing recommendations from Ms. Lane and discover authors for myself. I read 2 stories by Curtis Sittenfeld, Prep and The Man of My Dreams. After loving both of these, I discovered E. Lockhart through We Were Liars, with an ending that left me stunned.
By December, I had begun to realize the importance of these mere 30 minutes a week, beginning to read during my free time at home. It became a form of escapism and one of my favorite pastimes. During this time I discovered two authors I now love, Emily Giffin and Sarah Dessen. I read First Comes Love by Emily Giffin first and it really drew my attention. Just after finishing that book, I was peeling through Ms. Lane's room when I picked up another book, Heart of the Matter, ironically by the same author. I would greatly recommend these books and Emily Giffen as well!  I had a similar experience with Sarah Dessen, diving into her oeuvre and becoming captivated by Lock and Key, Just Listen, What Happened to Goodbye, and more!
Overall, my advice would be to make the best out of the little things.  Talk to people, get recommendations, find something that interests you and dive in! 10 minutes of relaxation every other day can open up a whole new world!