Did the Freshmen Actually Beat the Juniors?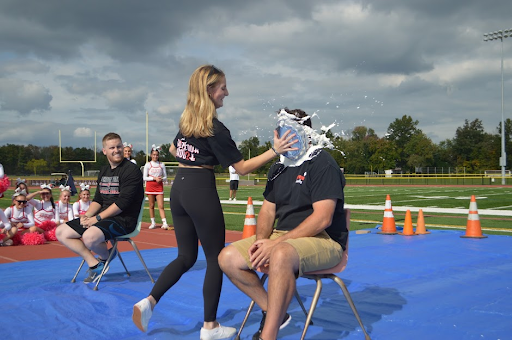 The Pep Rally of 2021 was unlike any other resulting in a surprise that left the students and staff amazed.  It also brought a sense of normalcy as each class got to sit in their designated section, all cheering in the excitement of being back.  
One of our senior writers, Sunnina Chen, recalled from the Pep Rally that this was the first time most seniors felt like true seniors, "running through that banner on the turf was such an insane entrance…" she states.  Every senior had the opportunity to let themselves "get lost in the mania and have fun."
In addition, activities that were featured in this year's pep rally were the hoola-hoop toss, 50-yard dash, 3 legged race, tug-of-war, and pie in the face.  I participated in the hoola-hoop toss representing the junior class.  The pressure was real as I heard the loud crowd cheering on their classmates.  To my surprise, the juniors won which boosted our confidence, but ultimately led us to our downfall.  Leaving students and staff in shock, was the freshman vs. junior tug-of-war.  The juniors felt confident going into the activity but were faced with doom when they lost.  I can say with certainty that, for most of the student body, the highlight of the Pep Rally was this event.   
The majority of Whippany Park had no idea what the school year of 2021-2022 would bring.  All we knew was that we did not want to return to last school year being virtual.  Thankfully we are lucky we get to participate in school activities this year even though covid-19 has left a huge mark on our everyday lives.