Dr. Allgaier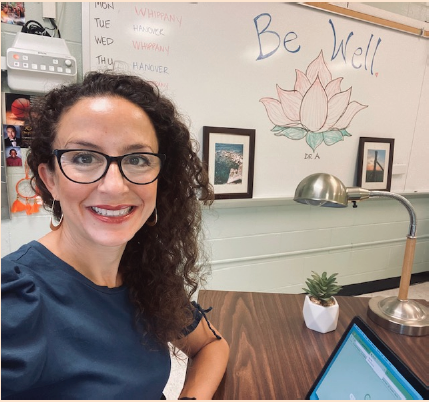 The new school year brought WPHS new staff members.  This year we welcome Dr.  Lisa Allgaier as our school's wellness coordinator.  Her room is 413, after guidance and before the nurse.  As the wellness coordinator, she helps students with their mental health and welcomes all students in her room.
Growing up, Dr. Allgaier always loved working with kids through counseling and babysitting.  She knew she always wanted to be involved more with schools and children, such as becoming a mentor for those who are fostered and or adopted.  
Achieving her dreams, Dr. Allgaier attended James Madison University and majored in psychology, and minored in English.  She then received her master's at Montclair State University in educational psychology and a certificate in school psychology.  In addition, Dr. Allgaier went back to school at Rutgers University and received her PsyD (doctor of psychology).  Outstanding and dedicated as she already is, in 2016 Dr. Allgaier became a certified yoga instructor through an organization called Breathe for Change.
Moreover, Dr. Allgaier has been working in schools "since 2005…" she stated, "grades preschool through 12th grade," and her favorite age group has always been high school students (teenagers).
Overall, Dr. Allgaier is a determined, hardworking, and caring person.  She cares about our mental health and suggests journaling, talk therapy, as well as other de-stressing activities to help better our minds.  As high school students, we are stressed more than ever.  Whether it is because of homework, sports, or personal issues, Dr. Allgaier reminds us that it is "important for people to all understand that [we are] not alone."