Justice Ruth Bader Ginsburg's Legacy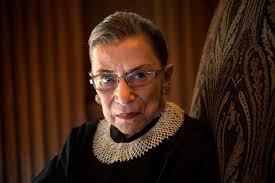 Annie Mulligan, Local, National, and World News Editor
November 9, 2020
On September 18, Justice Ruth Bader Ginsburg passed away. Her death caused the mourning of millions and the mourning her achievements for women across the nation and world. The late Justice was always on the frontlines fighting for gender equality whether during her time as a lawyer or while serving on the Supreme Court. On the walls of her chambers stood the words of the Old Testament, "Justice, justice, thou shalt pursue," a constant reminder to her to fight not only for women but to seek out justice in all cases, as well. She fought for gender equality and women's reproductive rights. She was a great woman and a fierce fighter. She led an amazing life and she will be greatly missed. She accomplished so much, and I think it is only fitting to look over her life. 
On March 15, 1933, Justice Ruth Bader Ginsburg was born and later raised in Brooklyn, New York. Her parents, Nathan and Celia Bader, were working class people. Her mother was one of the greatest inspirations in her life, teaching her independence. Her mom was a worker at a factory. Through this job, her mother taught her daughter, Ruth, the importance of selflessness. Celia took the factory position as a way to pay for her brother's education. When reflecting back on her mother, Justice Ginsburg said, "My mother told me to be a lady. And for her, that meant be your own person, be independent."  Ginsburg looked up to her mother so much, but sadly her mom battled cancer throughout Ginsburg's high school career. Her mother passed away the day before Ginsburg's high school graduation. 
However, she did not let the tragic loss of her mother stop her. She moved on to college. She attended Cornell University and graduated in 1954. Although graduating from Cornell is a huge accomplishment, one that is even bigger was graduating first of her class. In the same year, she married Martin "Marty"  Ginsburg, who was then drafted shortly after the birth of their first daughter Jane. After Marty returned, they both attended Harvard University as law students. Ginsburg was only one of eight women in her class to be accepted into the Harvard Law program and was constantly berated by her male peers about not being "qualified" to be a lawyer. But she pressed on. 
Despite being a young mother, she excelled in law school. She was the first woman to become a member of the Harvard Law Review,  an independent student group discussing and publishing articles concerning the law. However, tough times were still ahead. In 1956, her husband, Marty, was diagnosed with testicular cancer. He had to undergo treatment, therefore having to miss class. But Ginsburg would not let him miss any content. She took notes on everything for him while maintaining her own academic standard. Thankfully Martin recovered, and got a job at a law firm in New York City, causing Ginsburg to transfer to Columbia Law. She graduated from Columbia in 1959. 
This was not the end. Ginsburg found it difficult to find a job because she was a woman even though she succeeded immensely throughout the entirety of her academic career. She found a job clerking for Judge Edmund L. Palmieri. She then found a job at Rutgers University Law school from 1963-1972 and at Columbia University 1972-1980. She was Columbia's first tenured female professor. While also being a law professor, she fought for women by being a part of the Women's Rights Projects of the American Civil Liberties Union, where she fought many cases—six of them making their way to the Supreme Court. 
And in 1993, she was appointed to the position of Supreme Court Justice by President Bill Clinton. She went through the Senate Judiciary process, and was eventually approved by the Senate with an astounding 96-3 vote. The rest is history. 
Like many, I was deeply saddened by her death, and America has truly lost an amazing woman. Below, you can find more information about some of the landmark cases in which she had a say. America has truly lost an American hero and patriot. She was an amazing woman, and her memory is indelible. She fought for gender equality and so many other issues that are currently grasping our country. She will not be forgotten and will be missed by millions.