Announcement of New Streaming Service Disney Plus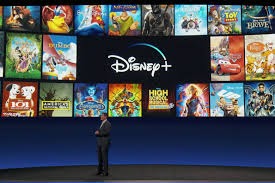 Disney recently launched their streaming service Disney Plus.  This streaming service is seen as a direct attack on popular streaming services, most notably Netflix.  The fee associated with Disney Plus is also more attractive than that of Netflix. Memberships will be $6.99 per month to access a plethora of Disney movies and TV shows.  This price point is cheaper than Netflix's fee for basic accounts at $8.99 and a premium price of $12.99.  
The company concluded a three and a half hour investor meeting on its plans to move quickly into the direct-to-consumer arena.  This fielded bewilderment from the 250 Wall Street analysts and reporter viewing the presentation. During the Q&A following the announcement, Disney's CEO Bob Iger explained that the company was focused on creating a product they "want to be as accessible to as many consumers as possible."  The presentation preceding the Q&A underscored the point that Disney has a plethora of brands (Disney, Pixar, Marvel, Star Wars, and National Geographic to name a few) to diversify their streaming service. Disney plans on exclusively offering their own content, but still debuting major films in theaters first.  They also plan on obtaining the rights to stream other content. They announced on Twitter that the popular show "The Simpsons" will only be streaming on Disney Plus starting in November.
Disney has projected that Disney Plus will have 60 to 90 million subscribers worldwide by 2024, as they plan on expanding the service to Asia, Europe, and Latin America in the next three years.  
The introduction of Disney Plus will undoubtedly give other streaming services a run for their money.  It will be interesting to see the positive or negative effects that Disney Plus has on these other services following its release later this year.