2019 Rock n' Roll Hall of Fame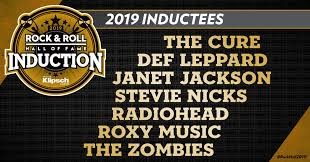 2019 saw a new class of artists inducted into the Rock & Roll Hall of Fame. Here's a comprehensive look at each artist's unique contributions to the music industry.
The Cure came onto the scene during the same time Britain was going through one of their worst recessions. The Cure's music perfectly encapsulated the depressive feelings stirring in their home country at that time. Lead singer, Robert Smith's voice singing his own personal poetry resonated with British youth. The band's melancholic lyrics and distinct acoustic guitar sound set a precedent for other artists; The Cure became one of the founders of gothic rock. Despite being so important to the goth genre, some of the band's most famous hits are pop ballads showcasing their effortless versatility. 
Def Leppard also emerged during the late 70s. Instead of responding to their country's economic volatility with a 6 string bass, Def Leppard came onto the scene with clashing drums. They went on to create some of the most memorable hits of the 1980s and solidified their status as one of the most iconic glam metal bands. To this day they are still selling out stadiums and they received a standing ovation at the induction ceremony.
Lead singer of Fleetwood Mac, Stevie Nicks, has just as a respectable solo catalog as she does with her band. Nicks is known for her incredibly introspective lyrics discussing  her drug addiction, childhood and failed relationships. Despite her turbulent life, Nicks has also dedicated a large part of her discography to songs about perseverance and self-growth. She uses spiritual imagery to explain the vagaries of womanhood. 40 years into her career, she proves she is still a force to be reckoned with, by giving one of the most memorable performances at the induction ceremony. Stevie Nicks shows the world what it means to be a mystical, female rockstar in a male-dominated genre.
Roxy Music's distinct sound is characterized by lead singer, Bryan Ferry's voice and the band's theatrical harmonies. To match their thespian appeal, the band performs with flamboyant costumes, dramatic mannerisms and androgynous makeup; the band's legacy has been compared to those of Kate Bush and David Bowie. They are considered one of the founders of avante rock and regarded as the "first real band of the 70s." Roxy Music's ability to commercialize in rock but also bring theatrical pop to mainstream is the reason for their well-deserved induction.
One of the most definitive bands of the 90s, Radiohead was inducted the first year they were eligible for a nomination. Despite being a British band, Radiohead helped define the alternative rock scene coming out of the U.S during that time. Not only was their sound unparalleled, but the way they marketed it to their fans was unheard of.  With the release of their critically acclaimed album, Ok Computer, Radiohead launched their own website making them the first band to do so. Radiohead could now interact with their fans on a more personal level, fitting considering how beautifully empathetic their lyrics already were. 
While only being an active band in the 1960s, The Zombies music is still able to transcend time and culture. Even being one of the lesser-known bands of the British Invasion, The Zombies still received massive success in America. Garnering top-charting hits with "She's Not There" and "I Love you" proved their likeability. Seemingly following the pattern of other British Invasion bands, The Zombies split at the end of that decade. In recent years, the band has reunited and have been able to headline major festivals like Glastonbury; that alone is a testament to their longevity and talent.
The Rock n' Roll Hall of Fame has gotten backlash for inducting Janet Jackson because she is not a traditional rock artist. However, as her fans have stated, Jackson cannot be confined to one genre. Whether it be new jack swing, neo-soul or opera, Jackson pushes boundaries with every style she explores. With her 1989 rock single, "Black Cat," she challenges the genre's norms of glamorizing substance abuse; instead, she uses this song to express the dangers of this lifestyle. This self-written and self-produced song made Jackson the only black female artist to ever have a #1 rock hit. Jackson has also been praised for her ability to successfully integrate other arts like dance and fashion into her craft. Janet Jackson has been hailed as one of the best performers of all time and is considered a blueprint in the industry. To this day, Janet Jackson is an icon, but importantly, a socially conscious one. She proved this by finishing her induction speech by encouraging the hall to "induct more women."