New Zealand Shooting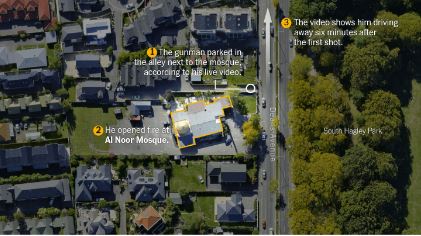 On Friday during the Muslim  noon prayer, two New Zealand mosques were targeted in a terrorist attack described by Prime Minister Jacinda Ardern as "an extraordinary and unprecedented act of violence." The attack left 49 people dead due to gunshot wounds and explosives set up in vehicles surrounding the mosques.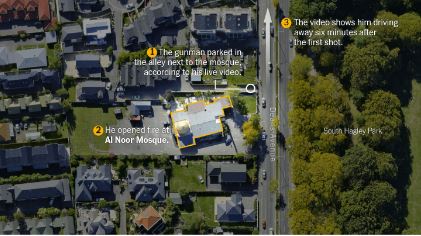 The suspected gunman posted a 17 minute video clip online that began with him driving to the Al Noor Mosque in Christchurch, New Zealand.  It appears to have been taken on a camera attached to a helmet. In the beginning of the video, the man's face can occasionally be seen in the rearview mirror.  After parking, he approached the mosque on foot and opens fire on worshippers once he reaches the entrance. A disturbing two minutes of open fire on innocent civilians follows as the gunman targets people in and around the mosque at close range.  He exchanged guns in his car at one point and resumed shooting the worshippers for a few more minutes. He then drives away. In the car, he was quoted as saying (over sirens in the background), "There wasn't even time to aim, there was so many targets."
The chilling video along with a manifesto could be found on Facebook, Youtube, Twitter, and Instagram for more than an hour before being taken down by the social media giants.  The gunman identified himself as a 28-year-old Australian and enumerated his extreme white nationalist views along with his white nationalist "heroes."
The platforms that the videos were posted on have come under fire for allowing the graphic content to be up for over an hour after initially posted.  This comes after tech companies have promised to implement stronger safeguards against violent content.
Officials have taken three men and one woman into custody.  One man in his late 20s was charged with murder and will appear in Christchurch court the morning of Saturday, March 16.  As for the other three suspects in custody, police are working to concretely link them to the attack, though they suspect one of them may have nothing to do with it.