Captain Marvel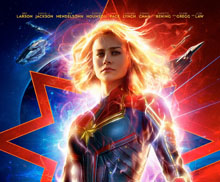 The long awaited film, Captain Marvel, made its U.S. premiere on March 8, 2019. After Avengers Infinity War, fans were left wondering what was going to happen to the characters that "vanished"; many were hoping that Captain Marvel would provide some answers.
The film opens on the planet Hala, which is the capital of Kree civilization. Vers, a powerful member of the Kree, only remembers that last six years of her life and is constantly told she must keep her powers in check by the Supreme Intelligence, ruler of the Kree. Vers is taken on an undercover mission to rescue a Kree operative from the Skrulls, shapeshifters who the Kree are at war against.
Vers is captured and taken aboard a Skrull ship headed towards Earth. She manages to escape and crashlands in Los Angeles, where she attracts the attention of Nick Fury. While Fury investigates, the Skrulls attack, but Fury and Vers escape to a US air force base. There, they discover that Vers was formerly an air force pilot who had crash landed while testing an engine for created by Doctor Wendy Lawson.
Vers and Fury head to Louisiana, where they find Maria Rambeau, Vers' former best friend. Vers learns that her real name is Carol Danvers just as the Skrull arrive at Rambeau's house. The Skrull reveal that they are refugees, looking for a home away from Kree aggression. Dr. Lawson was creating an energy source that could help the Skrull survive.
The Skrull replay the crash for Danvers so that she can understand that Lawson died at the hands of the Kree, and when Danvers tried to destroy the engine, she ended up absorbing its power. Danvers decides to help the Skrull and takes them to a disguised spaceship orbiting Earth, where they find several Skrull and the tesseract, the source of the energy.
The Kree arrive, but Fury, Danvers, and the Skrull unite to stop them. In a mid-credits scene, the remaining Avengers (from Infinity War) are staring at the pager that Fury had dropped before his disintegration. Captain Marvel then shows up behind them, demanding to know where Fury is.
The film was well received among many Whippany Park High School students. Anna Agresti, a Junior, said "it was a fun addition to the marvel universe, chock full of humor and adventure; it was a hoot." Britney Wilson, another Whippany Park Junior, explained, "Captain Marvel did not defy the classic masculine superhero, but reinvented the superhero. Her captivating story managed to be emotional and raw, while also being dauntless; the movie acted as the perfect preservation of the late legend, Mr. Stan Lee."
Not only is Captain Marvel one of the last films that will see the infamous Stan Lee cameo (Stan Lee makes a small appearance in every Marvel film), but the movie is also the first female-led Marvel film.