Park Swim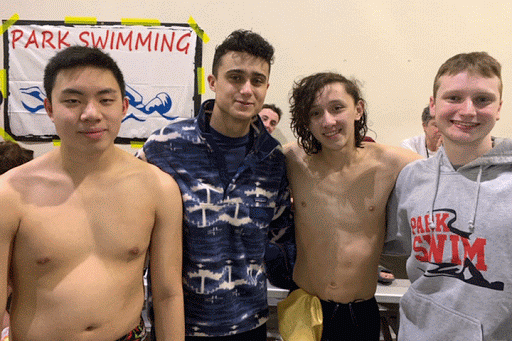 The 2018-2019 season was a year of great change for the Park Swim program. The team of swimmers from Whippany Park and Hanover Park saw both individual and team success under the leadership of head coach Mr. Gregory Mills and assistant coach Ms. Karla Iduante.
Following the graduation of a number of skilled seniors last year, the Park girls team had a lot of work to do. Luckily, the new recruits from the class of 2022 proved to be hard-workers, and substantial improvements were made leading up to a strong end-of-season victory over Morristown Beard. With the continued guidance of WP captains Sarah Bernstein and Amber Freda, the future is promising.
Moving on to the boy's team, the arrival of several talented freshmen created a formidable roster with experienced swimmers in every event. Captains Nolan Danus (WP JR) and Robert Mierzwinski (HP SR) lead the boys to a successful season. The team took second place (of 11 teams) at the U and ME "A" Meet, and edged out much larger schools for a sixth-place finish (of 17) at the Morris County Championships. And for the first time since 2004, Park Swim Boys qualified a relay for the New Jersey Meet of Champions. The 200m freestyle relay team of Jon Kao (WP JR), Nolan Danus (WP JR), Sean Giordano (HP FR), and Rob Mierzwinski (HP FR) will compete at GCIT the first weekend in March. In addition to the relay, Nolan and Sean, along with Sarah Bernstein, have qualified in individual events. Best of luck to these swimmers.