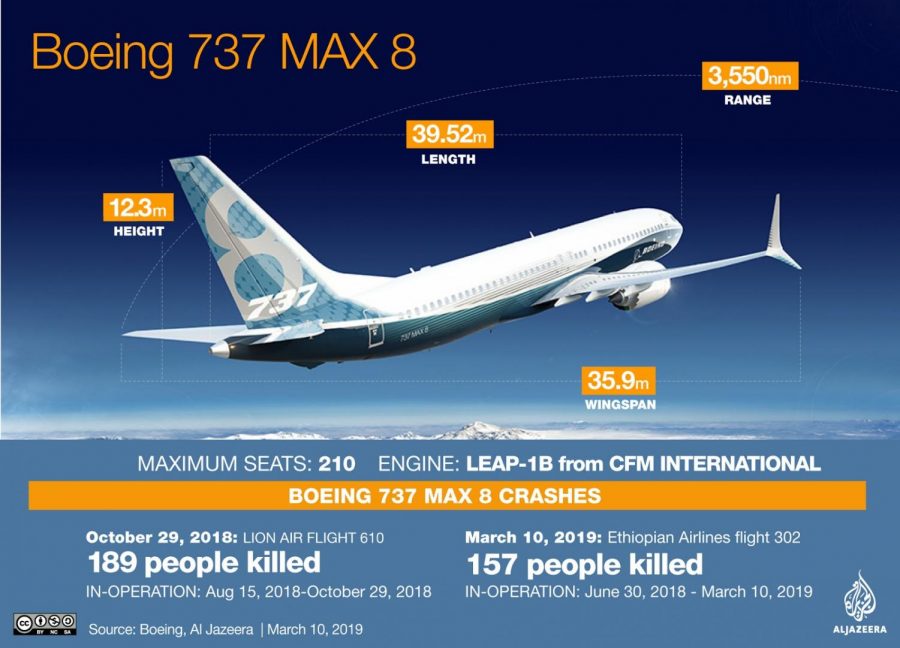 The crisis of the Boeing 737 Max has plagued the Boeing since October 2018. Two of these types of aircraft have crashed in the span of 5 months, and following the deadly crashes the Max was given a sentence of an 8 month-long grounding. Lion Air Flight 610 was the first crash; it occurred on October 29, 2018. After only 12 minutes into the flight, the airplane was diving nose-first into the Java Sea at 450 MPH. All 189 passengers and crew were killed. Five months later, on March 10, 2019, Ethiopian Airlines Flight 302 crashes into a farm field in Bishoftu, Ethiopia, killing 157 in the process. In total, 346 people were killed as a result of Boeing's carelessness. 
What went wrong? The plane's MCAS (Maneuvering Characteristics Augmentation System), an automatic system that stabilizes the angle of attack on an aircraft if it is too low or high, was malfunctioning. The system read the angle of attack as higher than normal when the plane was actually within safe angles. MCAS pushed the nose of the plane down during takeoff, which was very abnormal. The pilots were not able to override the MCAS system, and the automation took the entire plane over, sending it crashing down to the earth within minutes. Along with inaccurate readings from the angle-of-attack sensor, altitude and speed readings were also incorrect. Many things were wrong on this plane, which is what made it dangerous. With 8 months under their belts, Boeing has been frantically attempting to fix the system and whatever was causing it to malfunction.
Step by step, the 737 Max is regaining its certifications, and the FAA predicts that the Max will be set to fly again in January 2020. There are five main certifications that Boeing states the FAA must complete in order to get the aircraft back into the skies: FAA eCab Simulator Certification Session, FAA Line Pilots Crew Workload Evaluation, FAA Certification Flight Test, Boeing Final Submittal to the FAA, and the Joint Operational Evaluation Board (JOEB) Simulator Training Evaluation. Once the proper certifications are given, the plane can once again be flown.
However, airline employees are "begging" not to fly on the doomed plane, knowing that anything could happen on this aircraft that once had a mind of its own. According to Time magazine "'I hear from some flight attendants every day and they are begging me to not make them go back up in that airplane,' APFA President Lori Bassani told reporters. 'We want to know without a doubt that it's safe to fly.'" United Airlines has taken out the 737 Max out of all its flights until March 4, American Airlines until March 5, and Southwest Airlines until March 6. The grounding of the aircraft has affected airlines greatly, with many flights being canceled daily. But these airlines will always prioritize safety over money. 
Can the Boeing 737 Max be trusted to fly again? We'll find out soon enough.