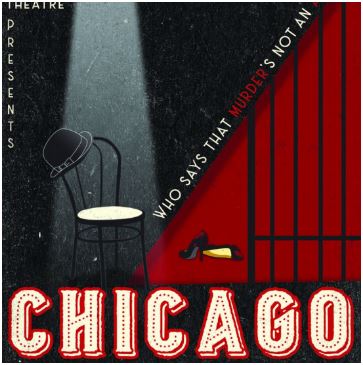 .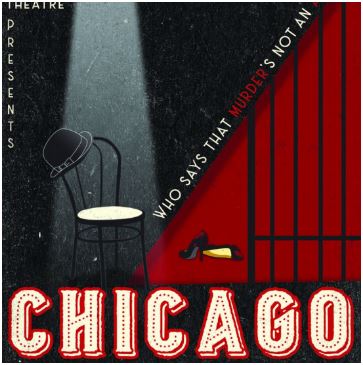 When I originally found out that this year's spring musical would be the Chicago, I was astonished.  But then I was excited.  I have been watching the movie version of Chicago with Catherine Zeta-Jones and Renée Zellweger since before I could even walk, singing along to "Cell-block Tango" since I began to talk.  
I had high hopes as I entered Whippany Park for the final performance of Chicago on the night of Saturday March 2nd.  Upon immediate entrance of the building, the set extended into the halls with a structure resembling a jail cell leading into the auditorium.  Inside the theater, cocktail tables stood in front of the stage, providing audience members in those seats to be part of the show. The interactions between cast and audience that came later in the performance elevated the show and kept audience members (especially those in the front) 100% engaged.  
The show opened with the song "All that Jazz," crooned mostly by Velma, played by Kelly Belarmino.  She did not disappoint in her final show as a Wildcat. Her voice was perfect for the many solos Velma performs as was her embodiment of Velma as a whole.  As the set was simplistic, the actors and actresses needed to be boisterous and Kelly did not fail to fill the audience with laughter as she traversed the stage.  Jordan Conte thrived as Roxie Hart in arguably her best performance at Whippany Park. Her comedic timing and delivery of lines had the audience doubled over in laughter.  She sang Roxie's solos beautifully. Allie Cimaglia blew the audience away with her solo "When You're Good to Mama." Antonio Porciello's rendition of "Mr. Cellophane" amazed everyone as he filled the theater with his strong voice, holding the final notes out incredibly long.  Michael Bretz's portrayal of Billy Flynn was spot-on, snappy comebacks and all.
It was nice to see the strong presence of underclassmen in the ensemble, showing the theater department will be left in good hands.
Finally, my personal favorite, the quintessential Chicago number, "Cell-block Tango" was cast beautifully.  Each actress took on the role of a murderess calmly explaining why "he had it comin'."
Overall, Chicago is arguably the best production to be put on by the Whippany Park theater department in a number of years.  From the casting to solos and comedic timing, the actors and actresses' performances left little room for improvement.